Furniture design of tomorrow

Functionality and aesthetics are decisive quality criteria for evaluating a furniture item – and sliding systems enhance both. The furniture fittings from Hawa Sliding Solutions AG are perfect for bringing creative and durable cabinet concepts to life.
Hawa products "On furniture": Hardware for sliding furniture doors
Sliding solutions on furniture offer great potential for creativity and elegance. Whether on a stylish kitchen cabinet, extravagant sideboard, practical dressing room or robust office furniture: sliding doors reveal new options for furniture designers. The sliding door hardware for furniture from Hawa Sliding Solutions AG meets the highest standards for quality, convenience and versatility.
From furniture to jewelry.
Many different sliding types (sliding, folding sliding, pivot/folding sliding, pull out)
Simple operation and installation of sliding door hardware
High material and design quality of the furniture fittings
Nearly invisible technology: Where the focus is on design of sliding doors on cabinets
For wooden and glass sliding doors of various weight classes
Furniture fittings for Forslide, Inslide or Mixslide designs
Sliding types on furniture
Hardware for furniture sliding doors
Hardware for pull-outs for tall cabinets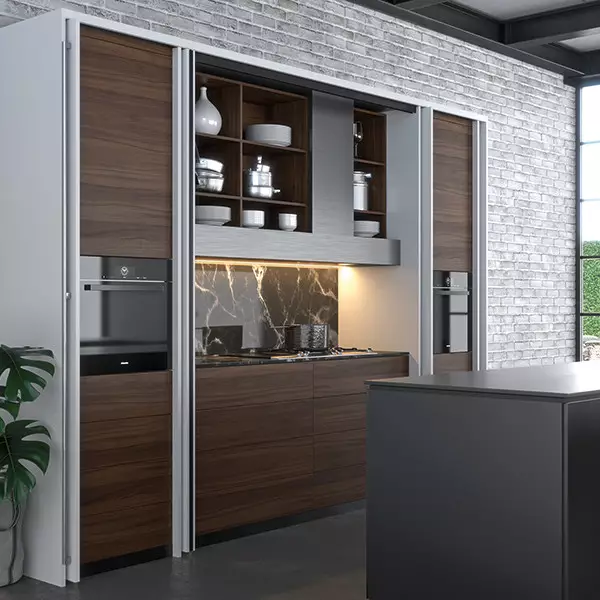 Advantages of sliding doors on furniture
Applications and designs of sliding doors on furniture