22.09.2020
Small yet refined
The world's population is growing. And in cities, the density is only rising. In response, the microliving movement attempts to make good use of every square meter – in keeping with the motto: "less is more." We listened to what the leading figures of this movement had to say.
As a young boy Leonardo Di Chiara was amazed at how much his parents could stow inside their sailboat. "I had two dreams," says the architect, "to be independent and to travel." He's long since accomplished both: Di Chiara tours through Europe with a house on wheels that he calls "aVOID" and presents it at architecture and furniture trade fairs
"aVOID" is an entire program. The name riffs on the dual meanings of empty expanse, i.e. "void" and "to prevent," i.e. "avoid". To realize his goal of living in a 9 square meter space – and even inviting guests over – the young Italian opened his mind to all possibilities. Inside, chairs and tables fold down out of the wall, drawers roll out on tracks and the foldaway bed transforms into a double bed thanks to a magic folding trick. Di Chiara turns, rolls and pushes, conjuring a ladder out of the wall to climb up onto the roof patio and pushing the open doors of the cabinet inside. He's selected the HAWA Folding Concepta 25 sliding solution for the kitchen doors. The entire furnishing setup is typical of a "Tiny House": a micro house with all the essentials, on a tiny footprint. "The less you have, the freer you are. This attitude extends far beyond just living," explains Di Chiara. To spark enthusiasm among wider circles, he founded a "Tiny House University" in Italy.
«No matter how small the home: people want to lend it personal design touches.»
Dr. Sonja Friedrich-Killinger, psychotherapist, Ludwigsburg
From environmental idealists to large investors
Increasing numbers of inventors, scientists and alternative living types from around the world are joining the Tiny House community. Most of them roll up their own sleeves to build their compact living paradise – and keep the community updated with their construction progress. They compare notes on the internet and at festivals regarding floor plans, camper vans and furniture. And they celebrate "independent living in nature." But what being as an idealistic movement of private citizens is now been discovered by city planners, architects and investors. "Microliving" is their term of choice for living in a compact space. "In light of the sealing of land, higher density living is a must," says US architect David Baker, founder of the eponymous architecture firm in San Francisco. In fact, after growing steadily since the 1970s, in many industrialized countries, the average living space in new buildings has again started to shrink in recent years. The specific floor area in square meters that is considered "microliving" depends on the local circumstances. "The higher our living density, the smaller our environmental footprint becomes," theorizes Baker, who has designed a pioneering microliving development. Residents automatically accumulate fewer consumer goods. But less space does not mean lower quality of living – on the contrary, asserts Baker: "Higher density co-living makes it possible to set up sophisticated infrastructure and take advantage of it collectively." Higher density developments can also include guest rooms, commercial spaces and cultural institutions for all – at affordable prices.
"Farm house" with six stories
Asia is experiencing the greatest pressure toward microliving. Every week, a million people here move to the cities. City planners are favouring gigantic residential towers with miniature apartments. Forty-three percent of apartments built in Hong Kong in 2018 were smaller than 40 square meters. "Due to the limited living areas and high population numbers, we have no other choice than to build in high density," explains Singapore's veteran chief city planner, Dr. Thai-Ker Liu. In past decades, he designed 50 new cities in China. The scale there is vastly different: in the megacity of Shenzen in the Pearl River Delta, city districts with 20-story residential towers are considered a "village." Buildings with just six stories, such as those in the "Huanggang Village" district, are known locally as "farm houses."
In the US, Australia and Europe, very few people want to live packed so tightly together. For Frankfurt architect Stefan Forster, one thing is clear: "Very few people will voluntarily live in the equivalent of a rabbit cage." European living culture is still bound up with prosperity and prestige. "A micro-apartment is usually a temporary solution. The people living there are working to ensure that they get out of it again at some point." Yet the current trend in construction is to build in a space and resource conserving manner. Forster considers sliding doors an elegant solution: "I love sliding doors because they don't project into the room and take up space that could be used for furniture. And they can be left half open to enable communication between the rooms."
«Living in a compact space doesn't mean compromising on quality of life.»
David Baker, David Baker Architects, San Francisco
High standards for a small space
No matter how small spaces get, they have to meet two opposing demands: for security and privacy, on the one hand, and social contact, on the other. Dr. Sonja Friedrich-Killinger, a psychologist and psychotherapist specializing in issues relating to homes and living, emphasizes this challenge. It's advantageous, she says, when light suffuses the apartment through large windows and the view outside conveys an expansive feeling. "Nature is always changing and offers ideal sensory stimulation."
Studies show that patients in hospitals recover more quickly if their room offers a view of greenery. For developments with micro-apartments, Friedrich-Killinger recommends semi-public areas in which the residents can find reprieve from their compact apartments and mingle with others if they so choose. "Laundry rooms and sterile hallways just won't do. A shared kitchen and café niche are much more effective solutions." Even furnished rental apartments need customizable areas: "People have a need to personalize their living space. Apartments set up in a purely functional manner have a depressing effect over the long-term," says Friedrich-Killinger: "Every micro-apartment must offer space for a plant or picture." Large investors that take such aspects into account need not engage in extended advertising for their microliving construction projects. "There's high demand for small living units, as long as their centrally situated. Our 50 newly built micro-apartments in Zurich were all rented within just a few weeks," discloses Manuel Gamper, CEO of City Pop AG. Artisa, its parent company, builds Swiss residential buildings with 1,000 micro-apartments, each 25 to 35 square meters. They are conceived as limited-term rental apartments. One enters the bathroom through a soundproofed sliding door; using a hydraulic lever, the bed can be folded down out of the wall, then extended over the sofa. If the storage space in the apartment is not sufficient, the residents can additionally rent a storage locker.
Apartment seekers of all stripes
Who lives in micro-apartments like these? "Many business people and expats, but also people who have separated from their partner and urgently need a new living solution," says Gamper: "Others come as students or want to live in the city center following retirement." Artisa is planning 15,000 micro apartments in five additional countries. One has to wonder if the mobile "aVOID" dwelling will eventually be market-ready.
«More people are living in smaller spaces. We have no choice: high-density construction is a must.»
Dr. Thai-Ker Liu, long-time Chief City Planner of Singapore
aVOID
Getting by with little is architect Leonardo Di Chiara's modus operandi. He spent three months working on building his first house, called "aVOID."
Area: 9 square meters
Site: Flexible, since it's equip­-ped with wheels
Year of construction: 2017
388 Fulton
Architect David Baker says of San Francisco's "first marketable" microliving project that it will contain more than 69 residential units, including 35 studio apartments. There aren't any parking spots for residents, although bike racks with room for 86 bikes are provided.
Area: 30 square meters (studio)
Location: San Francisco
Year of construction: 2016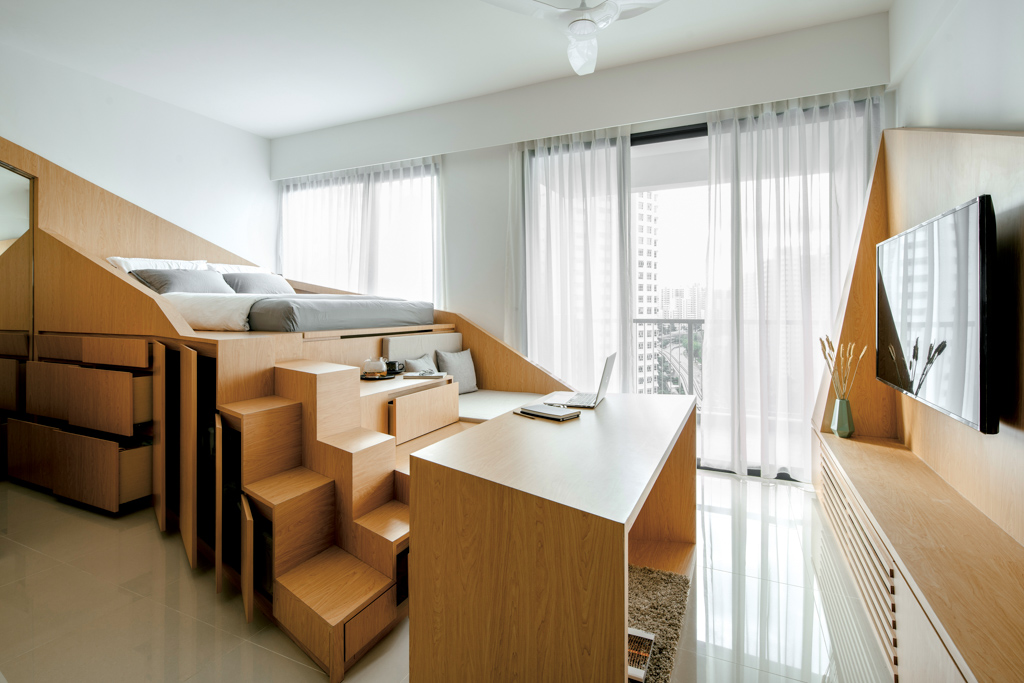 Gradient Space
In this bachelor apartment, Metre Architects have combined the most important elements - bed, sofa, desk and table - into a compact sculpture of living that offers generous storage space.
Area: 43 square meters
Location: Singapore
Year of construction: 2018
Mini-one
We don't need more; but not any less, either: The mini house by architect Rainer Borcherding is designed for one to two occupants. Toilet, sink, shower, kitchen, cabinet, sofa (bed) – there's just one of everything. Yet two sliding doors with EKU Frontino elegantly close flush to form a wall while opening up the room.
Area: From 28 square meters
Site: Flexible
Year of construction: 2019
Topic
Microliving, Slide Magazin
Product range
On buildings, In buildings, On furniture